On your visit please notice all the birdhouses in the vineyards. It's quite simple, birds eat bugs. Attract the right birds and pesticide usage is kept to a minimum. We do not claim to be organic but we eat the fruits and drink the wines too!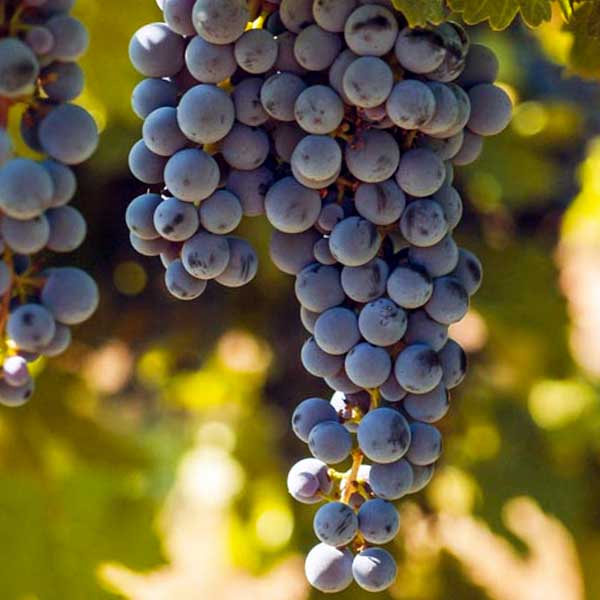 BACO NOIR
Baco Noir is a hybrid red wine grape created by François Baco from a cross of a Vitis vinifera variety known as Folle blanche (a white grape) and an unknown variety of Vitis riparia species indigenous to North America.
Baco Noir was bred to be phylloxera-resistant and easy to grow in cool climates and is mostly found in the cooler winegrowing regions of North America.
Wines made from Baco Noir grapes can be expressed in a variety of ways from light- to medium-bodied Pinot Noir-style wines to Bordeaux reds.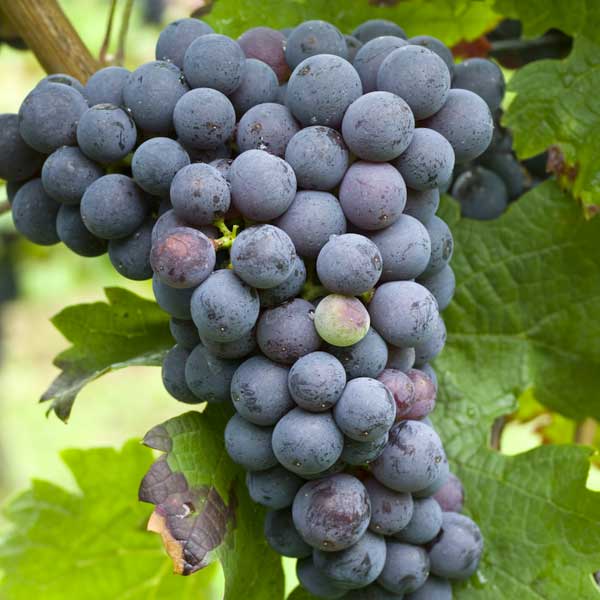 CABERNET FRANC
Cabernet Franc is one of the major black grape varieties worldwide. It is principally grown for blending with Cabernet Sauvignon and Merlot in the Bordeaux style, but can also be vinified alone.
In addition to being used in blends and produced as a varietal in Canada and the United States it is sometimes made into ice wine there.
Cabernet Franc is lighter than Cabernet Sauvignon, making a bright pale red wine and contributing finesse and a peppery perfume to blends with more robust grapes. Depending on growing region and style of wine, additional aromas can include tobacco, raspberry, bell pepper, and cassis, sometimes even violets.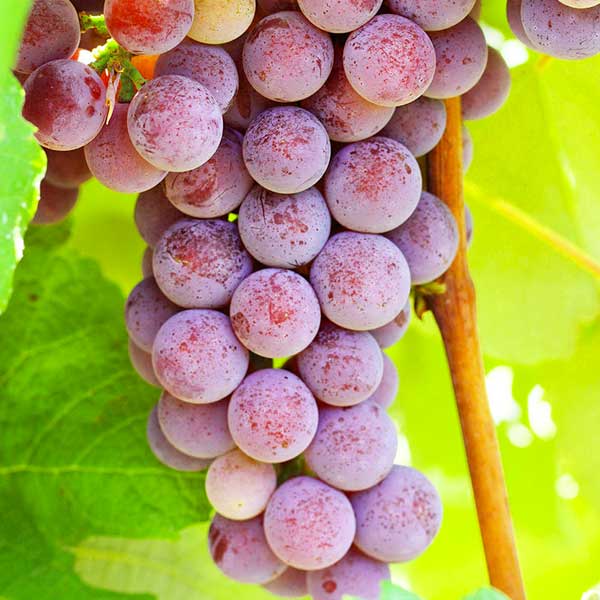 CATAWBA
Catawba is a red seedless American grape variety used for wine and champagnes as well as juice, jams and jellies. The grape can have a pronounced musky or "foxy" flavor.
Catawba played an important role in the early history of American wine. During the early to mid-19th century, it was the most widely planted grape variety in the country and was the grape behind Nicholas Longworth's acclaimed Ohio sparkling wines that were distributed as far away as California and Europe.
The hardy vine is a late ripening variety that can handle the severe continental climate of the Eastern United States which includes hot, humid summers and cold winters.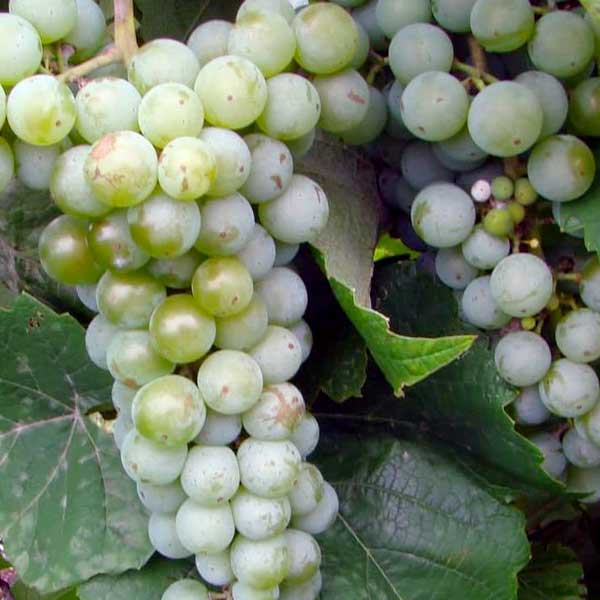 CAYUGA WHITE
Cayuga White is a French-American hybrid grape variety. The variety wine grape is a crossing of Schuyler and Seyval Blanc done at Cornell University's New York State Agricultural Experiment Station in Geneva, New York.
Like many hybrid varieties, Cayuga White was bred for its cold hardiness and resistance to disease.
The hardy vines should be picked at low sugars to avoid over-ripe, sometimes labrusca-like, flavors.
Picked at the proper time it can produce a very nice sparkling wine with good acid balance, structure, and pleasant aromas or a fruity white wine similar to a Riesling.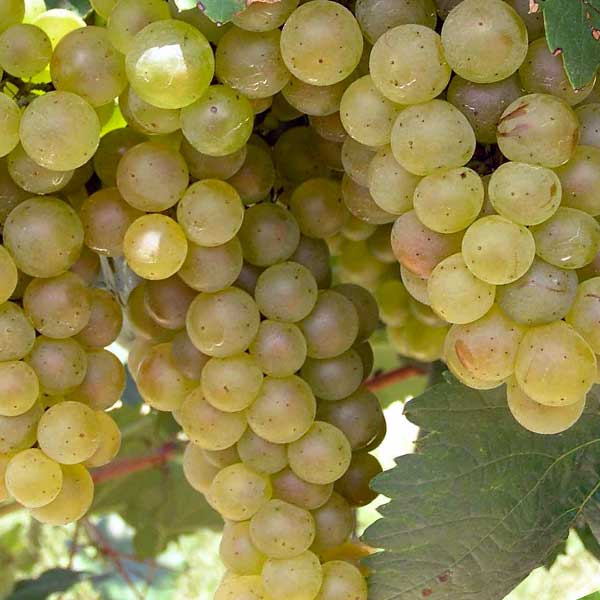 CHARDONEL
Developed in New York during the 1950s, Chardonel was cultivated to produce a white wine grape that could achieve a body and flavor range similar to Chardonnay but would be able to sustain long, harsh winters.
The late ripening vines grow vigorously and produce green grapes with large clusters. It is the result of a cross made by the New York State Agricultural Experiment Station of the popular French American hybrid Seyval and the classic Vitis vinifera Chardonnay.
Chardonel typically makes a medium- to full-bodied wine that can vary in taste from crisp and citrusy to rich and savory.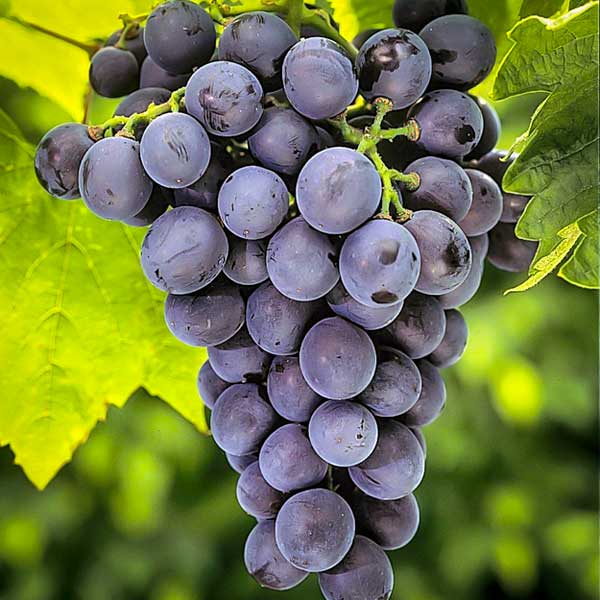 CONCORD
Concord grapes are one of only three native North American fruits.
The Concord grape was developed in 1849 by Ephraim Wales Bull in Concord, Massachusetts. Although Concord is frequently considered to be basically a Vitis labrusca cultivar, some have argued that the hermaphrodite flowers suggest at least a small amount of Vitis vinifera in its pedigree.
The Concord grape is a robust and aromatic grape that have a deep, sweet flavor, that finishes off with a tartness that keeps them from being overwhelmingly sweet and are frequently used as table grapes, wine grapes and juice grapes.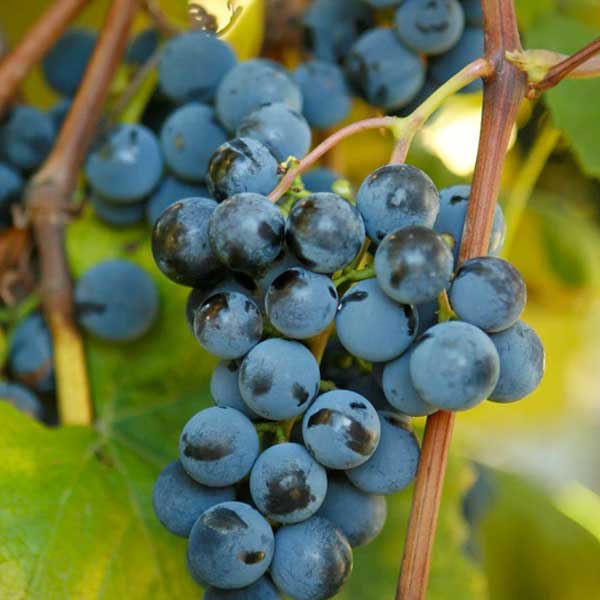 DECHAUNAC
De Chaunac is a French-American hybrid grape variety used to make red wines and is grown in the northeastern United States and Canada.
The variety ripens early in the season, has a very vigorous growth habit and has a strong resistance to vineyard mildew.
It was developed by Albert Seibel circa 1860 and originally called Seibel 9549. It was later renamed after Adhemar de Chaunac, a French-Canadian immigrant who pioneered the growing of Vidal for ice wine production.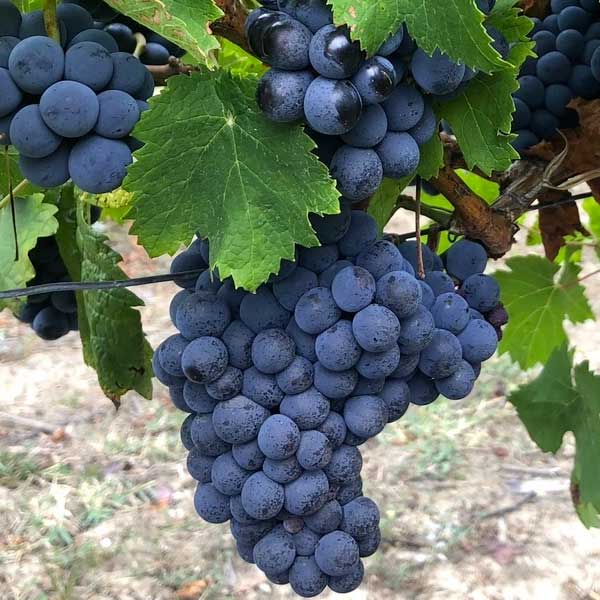 FRONTENAC
Frontenac is a dark-skinned, hybrid French-American grape variety, the result of research and cross-breeding made in 1978 between Landot Noir, and a native Vitis riparia vine noted for its resistance to the cold at the University of Minnesota.
The vines produce loose clusters of dark, highly acidic, high sugar berries that are much smaller than traditional grapes and grow in tight clusters. Frontenac grapes produce a mild grape flavor.
As a wine, Frontenac may be made in dry, sweet or rosé styles. The juice usually has a deep garnet color, with cherry aromas.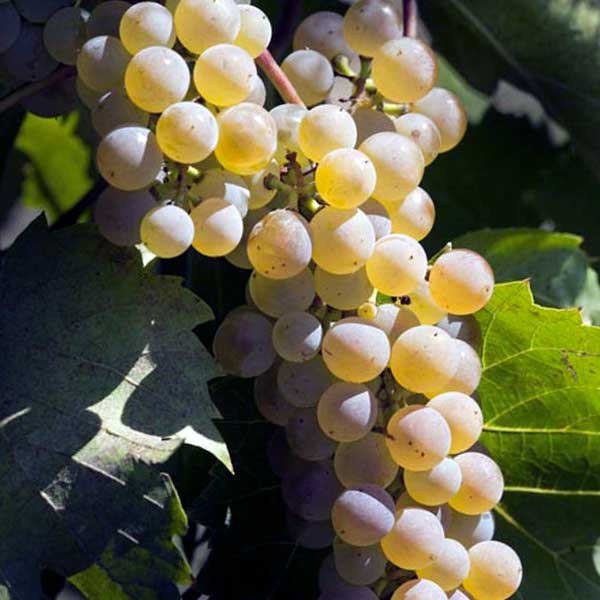 FRONTENAC BLANC
Frontenac Blanc is a mutation of Frontenac gris and was discovered by the University of Minnesota. The grape clusters are large and loose and disease resistant and cold hardy. Frontenac blanc can be slightly bitter if picked early.
As a wine, Frontenac Blanc makes a peachy, fruity white that can range from off dry to sweet.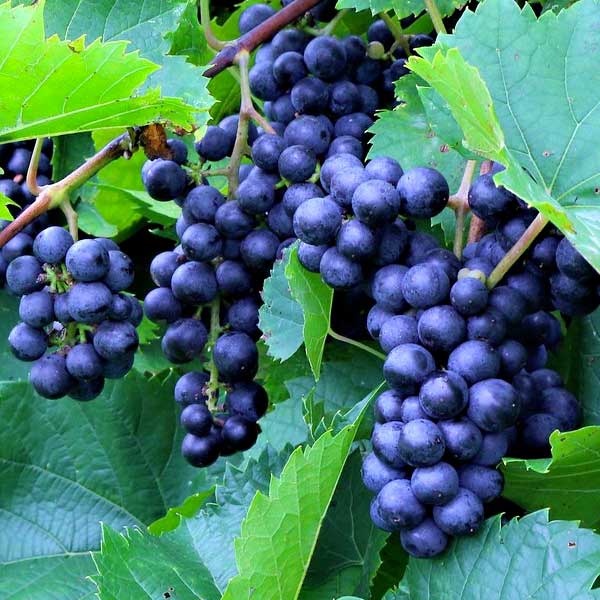 MARÉCHAL FOCH
Maréchal Foch is an inter-specific hybrid red wine grape variety. It was developed at the Oberlin Institute in Colmar-Alsace, at the beginning of the 20th century and arrived in the United States in 1946.
Both the skin and flesh of the grape is a deep red color. This intensity translates to the body of the wine.
The quality of wine produced by Maréchal Foch vines is highly dependent upon vine age. The berry size of this variety is small and ripens fully by the end of September.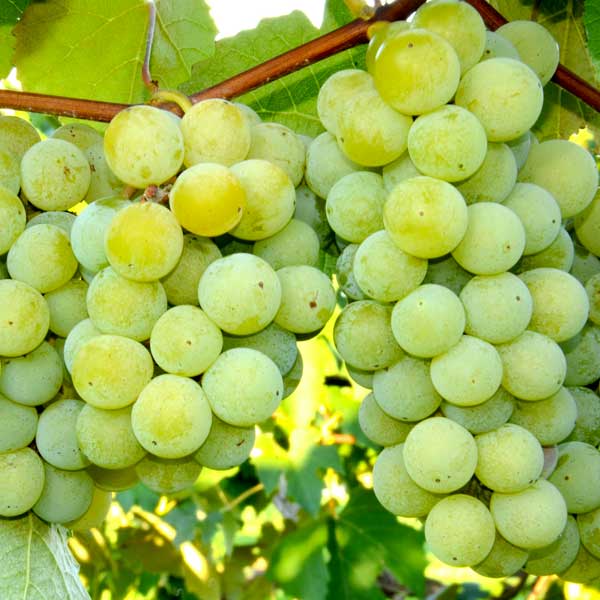 NIAGARA
Niagara grapes are a variety of the North American grape species Vitis labrusca and are commonly used for wines, champagnes, jams/jellies and juice. Niagara is the leading green grape grown in the United States.
The seedless grape was created in Niagara County, New York, in 1868 when Concord grapes were cross-bred with white Cassady grapes.
The fresh grape is large and juicy, round to oval-shaped, pale greenish-white in color and has a sweet, very pleasant aroma. It also has a sweet and generally pleasant flavor.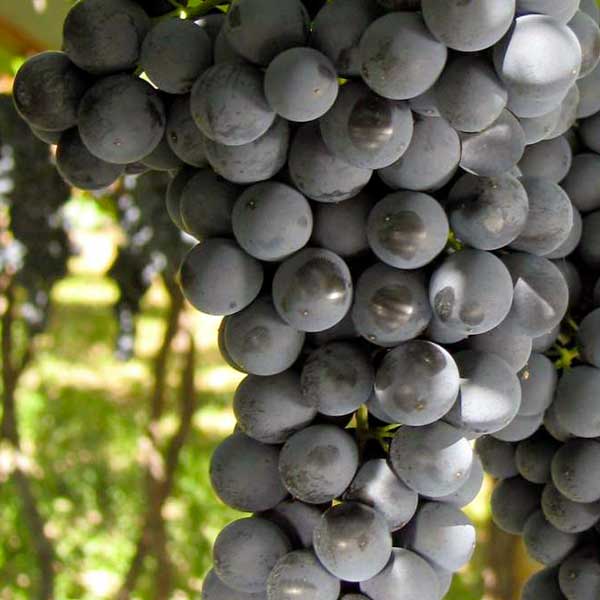 TEROLDEGO
Teroldego is a red Italian grape variety grown primarily in the northeastern region of Trentino-Alto region in northern Italy, but has found a new home in Ohio.
The red wine grape produces intensely fruity characteristics with flavors of spicy red fruits, and hints of tar, pine and almond.
he grapes ripen around the last week of September or the first week of October.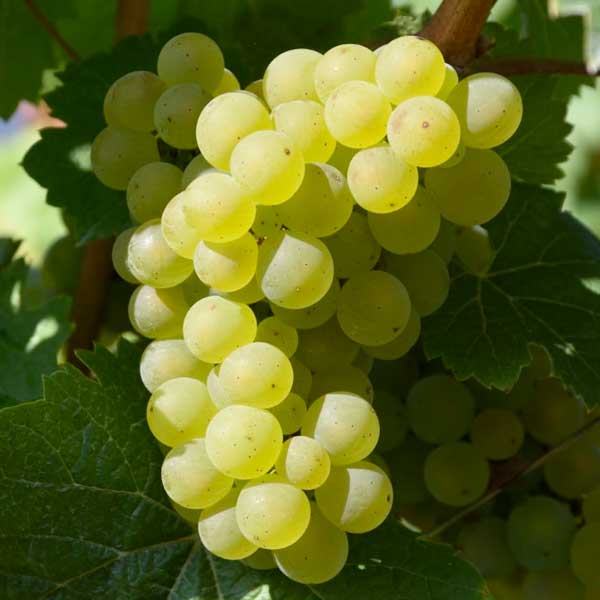 TRAMINETTE
Traminette is a hybrid white grape variety originally bred at the University of Illinois in 1965. It is the result of a crossing between Gewürztraminer and Joannes Seyve 23.416
Traminette vines are relatively cold hardy, making them suited to the continental climates of some of the more inland states, and high yields and some disease resistance have made the variety a smart choice for winegrowers in states where the climate is difficult for Vitis vinifera.
A versatile grape variety, Traminette has been used to make dry, sweet and sparkling wines. Ice wine styles have also been achieved. Traminette wines tend to be floral and spicy.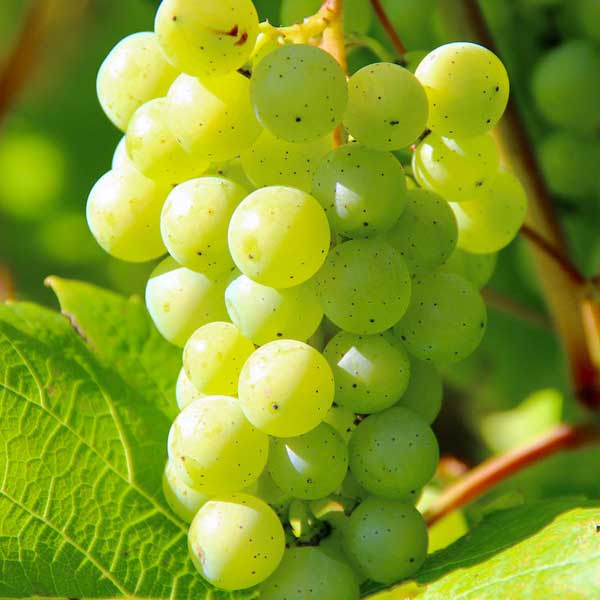 VIDAL BLANC
Vidal Blanc is a white hybrid grape variety, a cross of Ugni Blanc and Rayon d'Or (Seibel 4986).
It was originally developed in the 1930s by French breeder Jean Louis Vidal; his primary goal in developing the variety was to produce vines suitable for the production of Cognac in France.
Due to its winter hardiness this grape variety is cultivated most extensively in Canada and in the northeastern United States. The wine produced from Vidal Blanc is fruity, with grapefruit and pineapple notes. Due to its high acidity and fruitiness it is particularly suited to sweeter, dessert wines. Because of the tough outer skin of the fruit, it is well adapted for the production of ice wine, especially in Ontario and the Great Lakes region of the United States.